Here's the final cover art for
Nights of Sin
as posted on
Paula Guran's editor blog
- glad they got rid of the greenish cast I saw before, although I'm not 100% sure about that font. But, I'll agree - it is a"stunning" sequel, damn skippy.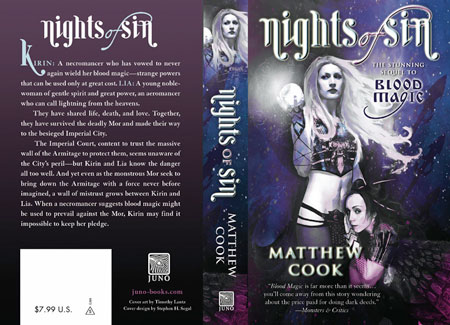 The back cover text is a bit hard to make out, but it seems pretty good (although it doesn't explain what "pledge" Kirin made at the end of Book 1 - maybe that will be fixed). I can say that if you liked the creepiness of Book 1, particularly the elements pertaining to Kirin's difficult choices regarding the use of what is fundamentally a force for evil and destruction as a tool of justice and good, well, you're in for even more this time.
There were parts of this book that, as a father particularly, were actively difficult for me to write, and I hope that I can evoke the same feeling of escalating dread in you, the reader. Like
Blood Magic
, this is not a book that's a light read, and I'd have it no other way. Once again, my heartfelt thanks have to go to Juno Books and Paula in particular for taking a chance on me and Kirin - I know my work isn't easily marketed or categorized at times, and I appreciate your confidence in me, my writing, and my characters.
Also, looking at Juno's release schedule, it seems as if I've really set a trend: September's title is
Matters of the Blood
and November's is
Blood Bargain
, both from Maria Lima. Glad I didn't go with
More Blood Magic
or the ever-imaginative
Blood Magic II
. =)
You can pre-order Nights of Sin right on Amazon
HERE
. As always, I invite any reader to contact me on this blog or via email with comments, rants, raves or questions. Hope you like reading it half as much as I enjoyed writing it for you all.